---
| Forward |



M° is Moncler's thermometer. We aim to measure Moncler's values, garments, and more by placing them in the context of temperatures from freezing to burning. As such, we want to take you on an expedition through time and space, from the cold Alpine heights where Moncler gets its name, then downward, to an increasingly faster, speculative, fantastical, and possibly hot future.

Our short form brand magazine uses temperatures as a common thread throughout each section, allowing us to present an unusually open editorial approach, including interviews and editorials, but also visual experimentations and collaborations with contemporary artists.

Moncler is one house, with many voices. Our motto, "Born in the mountains, lives in the city" encapsulates our past, and informs our future as globalized citizens moving seamlessly between different environments, terrains, and temperatures.

M° is run by a team of art directors—Matilde Borgoni, Hyosun Choi, Alena Ploski, Madeleine Tabary, Yuqi Wang—from varying backgrounds interested in pushing the limits of contemporary fashion through collaboration: we will invariably invite specialists and hobbyists alike, from all fields, to propose a total work.




---
| Contents |


---
| -196° |


BETWEEN WATER AND WIND

Styling: Hyosun Choi
Beauty Concept & 3D: Yuqi Wang
Photography: Semi Yang

Models: Iulio Kambe, Jiawen Han & Naomi Chau
Makeup: Sayaka Aga & Sarah Woog
Hair: Estelle Andria & Cloé Hobi

---
| -173° |


THE FAR SIDE OF THE MOON

Styling: Hyosun Choi & Madeleine Tabary
Photography: Adrien Lai

Models: Morgane Saget & Yuqi Wang
Makeup: Anthony Reinhard

---
| 10° |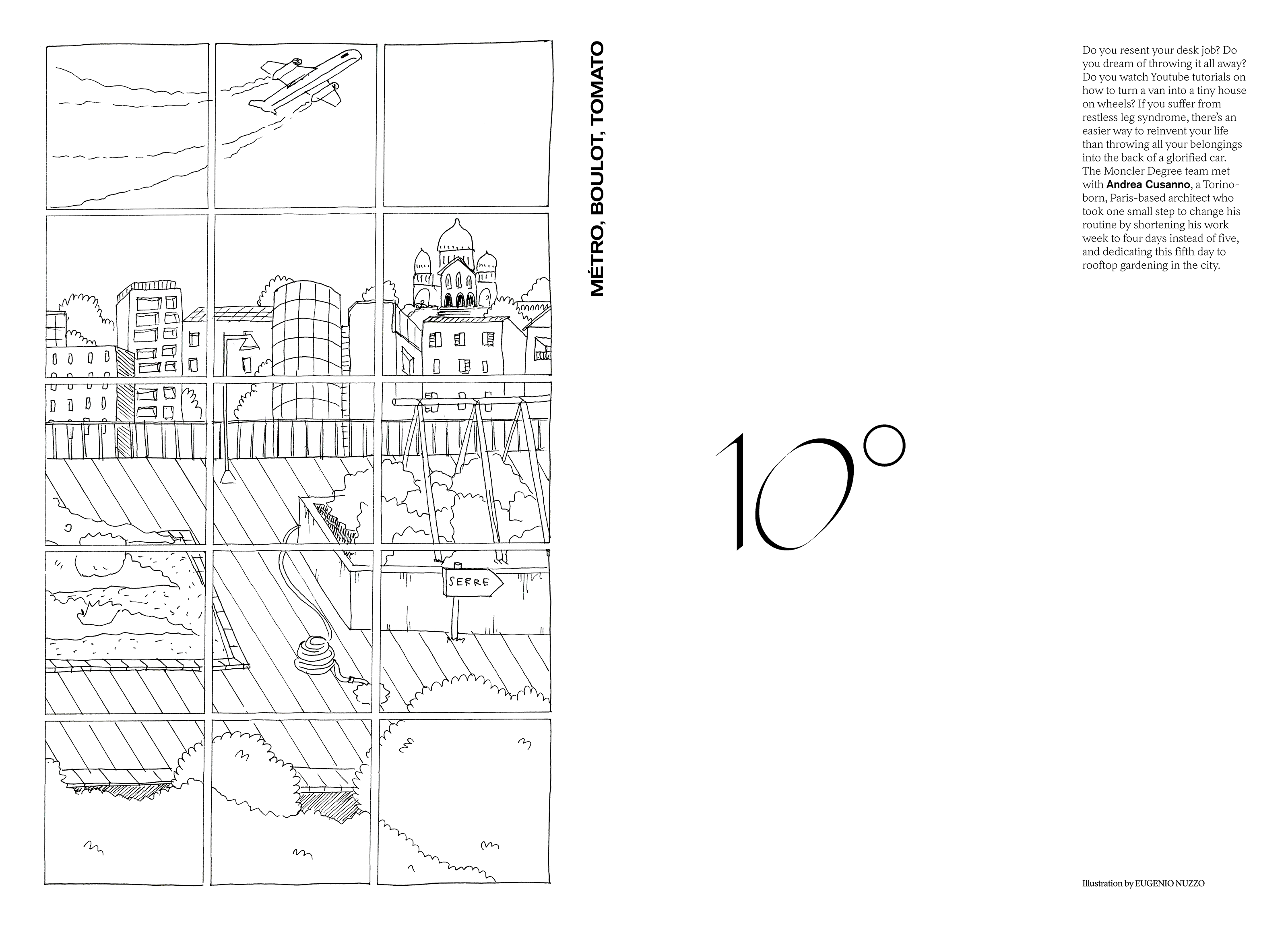 MÉTRO, BOULOT, TOMATO

Illustration: Eugenio Nuzzo

Interview of Andrea Cusanno by Matilde Borgoni
Edited by Matilde Borgoni & Hyosun Choi

---
| 37° |


THE EMPEROR'S NEW DIGITAL CLOTHES

Styling: Hyosun Choi & Madeleine Tabary
Set Design: Madeleine Tabary

Words: Madeleine Tabary
3D Scanning: the Moncler Degree team

---
| 100° |


HOW ARTISTS ARE GOING TO SAVE THE PLANET

Words: Madeleine Tabary

---
| 245° |


FLOUR, WATER, SALT, AND TIME

Set Design: Alena Ploski
Photography: Qiting Lin

Interview of Elysia Cotton by Alena Ploski & Madeleine Tabary
Lace: Eun Pyo Hong

Special Thanks:
Fabrice Paineau
Laure Guilbault
Alice Litscher
Stéphane Wargnier
Thomas Descheemaekere
Benjamin Torres Agüero
James Bridle
Simon Denny
Sarah Friend
Harm Van Den Dorpel
Antalis
Angelo Sensini Communication
ENDYMA ARCHIVE
Institut Français de la Mode
Moncler